Study Spanish Courses At University of Santiago de Compostela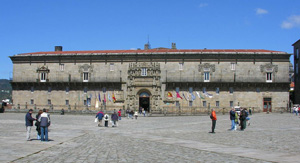 The University of Santiago de Compostela is proud to have over 50 years ofexperience in teaching Spanish to foreigners. The office of Cursos Internacionales,along with the professionally trainedphilologists and teachers, provide a traditional, but contemporary method ofteaching the Spanish language.
The Philology department atthe University of Santiago is highly regarded in the growing field ofApplied Linguistics for having an important research facility within theUniversity. At the University of Santiago, the International Courses facultyuses up-to-date techniques and technologies for providing the information andcreating the best form of communication. Plus, students benefit from the lushlandscape and cultural aspects of the city, known as Spain's "green corner."
There is a variety ofchoices for the Spanish language courses offered, such as academic yearprograms, shorter summer sessions, special topic courses for those wanting toperfect the language and courses aimed at professionals or teachers.
Standard SpanishLanguage Course
This course has beendesigned for students who wish to learn and/or improve their Spanish quicklyand effectively.
Hours per week: 20
Levels: All
Course duration: from 4 weeks