Study Spanish Courses At University of Alcala de Henares, Madrid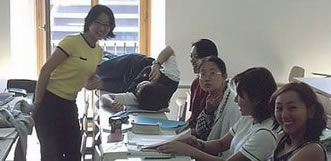 Spanish courses at the University ofAlcalá are organized by Alcalingua, the university's official organizationdedicated to the teaching of Spanish to foreigners. In the two decades sinceits inception Alcalingua has developed an excellent reputation; today it isknown internationally for its creation of quality didactic materials for use inSpanish language instruction.
Alcalingua's textbooks Sueña and Vuela can be found on the bookshelves of libraries around theworld, and so too will new projects such as the Encuentros series (dedicated to immigrants) and specified textbookson subjects as varied as Spanish for business, tourism, and the sciences.Alcalingua was also responsible for the preparation of course materials for thethird and fourth levels of the online classes offered by the CervantesInstitute (Spain's official Spanish language institution).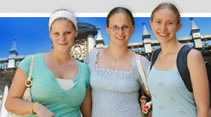 More than a thousand students fromcountries as varied as China, the U.S., Italy, Brasil and Australia attend thelanguage center every year, giving rise to a rich and dynamic interculturalatmosphere. Students also benefit from course formats specifically designed toaccommodate varying learning needs and optimize travel opportunities withinSpain.
Intensive Course
Designed for students with limitedschedules, this course provides an in-depth survey of Spanish language andculture. Over the course of four weeks, students will integrate the theoreticaland communicative practice of Spanish with immersion in the country's dynamicand engaging culture.
Hours per month: 80 (language course) / 100(language & culture courses)
Levels: All
Course duration: 4 weeks
Starting Dates:


Term Courses
This course's methodology emphasizes amodern, participative approach of proven efficacy that integrates linguisticskills with the necessary foundation in structure and grammar. The course isdivided into two main sections: (1) an integrated approach to grammar andwriting; and (2) an integrated approach to conversation and phonetics.
The cultural classes provide anintroduction to Spanish history, art, economy, and either literature or film.Each course's unique focus highlights the most relevant historical,geographical, and artistic aspects of Spanish life while acquainting studentswith the functioning of the country's primary institutions. Classes aredeveloped in conference and seminar style, allowing for ample studentparticipation and peer-to-peer interaction. Cultural and social activities areorganized throughout the course to take students' learning beyond theclassroom.
Hours per Term: 150 (language course) / 200 (language & culture courses)
Levels: All
Course duration: Approximately 10 weeks
Starting Dates:

Prices are valid from 01-Jan-2018 until 31-Dec-2019
Prices
Term Spanish course 200h
Official Price
Our Price
1
1685€
1685€

Annual Course
This course is primarily designed withthose in mind who will be having their first contact with Spanish or forstudents with a more advanced level of experience who must undergo a yearlongacademic or professional experience in Spain.
Hours per course: 450 (language course) / 600 (language & culture courses)
Levels: All
Course duration: Approximately 7 months
Starting Dates:


Accommodation
Host Family, half board 23€ per day
Host Family, Full board 26€ per day
Residence, single room 439€ per month