Study Spanish At Canary Islands University
(Las Palmas de Gran Canaria)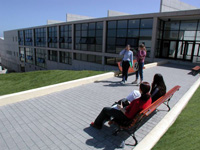 It is the "CursosHispanicos" from the University of Gran Canaria that offers various SpanishLanguage courses throughout the year. It is a young University but has beentraining foreign students in Spanish for several years now.
Whilestudying Spanish at this University, you can at the same time enjoy the widerange of activities Las Palmas offers (sports like windsurfing,surfing, scuba diving, paddle, tennis, golf, etc., culture, gastronomy,beaches...).
The coursesare all offered in small groups, divided according the levels. Students cansign up for courses from two weeks to one year, depending on the type ofcourse. Each course is divided into two weeks' modules, so students can easilycombine different courses.
Thefollowing courses are offered:
Grammar Course +Communicative Practice
This courseis offered throughout the year and is for University and non-Universitystudents (min. 17 years old). The two weeks course consist of 40 hours intotal, taught in the morning or afternoon – from Monday to Friday - dependingon the level of the student.
Hours per week: 20
Levels: All
Course duration: from 2 weeks to 1 year
Start dates: EveryMonday for all levels. ( Please do however contact us for availability).
PRICES
Time
Official Price
Our Special Price
4 weeks
640 Euro
610 Euro
8 weeks
1280 Euro
1215 Euro
Extraweek
160 Euro
150 Euro

Individual Course
Classes areheld with one student only and it is the student who decides the contents ofthe course. This can be grammar, conversation, Spanish history, literature,art, etc. It is possible to enrol from 1 week to unlimited time.
This coursecan be combined with any of the other courses offered by the University.
PRICES
Time
Official Price
Our Special Price
1 week / 10 hours
350 Euro
330 Euro
1 week / 20 hours
700 Euro
665 Euro
2 weeks / 40 hours
1300 Euro
1235 Euro
1 hour class
35 Euro
30 Euro

D.E.L.E. preparationcourse
This courseis offered to students and adults of 18 years and older who whish to obtain theuniversally recognised Diploma de Español como Lengua Extranjera (DELE) of the Institute of Cervantes.
Hours: 20 per week
Levels: Initial, Intermediate and Superior
Course duration: From 2 to 8 weeks
Start dates: March and September
PRICES
Time
Official Price
Our Special Price
2 weeks
360 Euro
340 Euro
4 weeks
640 Euro
610 Euro
6 weeks
960 Euro
910 Euro
8 weeks
1280 Euro
1215 Euro

More Courses