Universityof Alcala de Henares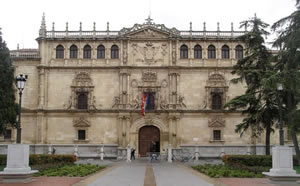 The University of Alcalá wasestablished in 1499 by the famous Spanish cardinal and statesman FranciscoJiménez de Cisneros, Spain's regent at the time. Within a short time it came toplay a central role in the birth of Spain's Golden Century by fueling thecountry's leading participation in the European Renaissance movement. Theuniveristy was moved to Madrid in 1836 and renamed the city's CentralUniversity, but by 1977 it was reopened once more in its original historicalbuildings in Alcalá de Henares.
Located just 30 kilometers from thecenter of Madrid, the university is attended by over 26,000 students spreadover three campuses who study in fields as varied as the humanities,information technology, law, medicine and environmental sciences. Numerousbilateral agreements with universities throughout the world (particularly inLatin America and the U.S.) make the campus an international environment andproject the university's favorable international presence.
The university's main priority is tomaintain its optimal levels of teaching, research and prestige in its variousfields while simultaneously fomenting collaboration with institutions aroundthe world. The institution enjoys international prestige and is especiallyknown within the Hispanic world for its annual presentation of the covetedCervantes Prize for lifetime achievement in Spanish literature.
Spanish Courses At University of Alcala de Henares, Madrid
Spanish courses at the University ofAlcalá are organized by Alcalingua, the university's official organizationdedicated to the teaching of Spanish to foreigners. In the two decades sinceits inception Alcalingua has developed an excellent reputation; today it isknown internationally for its creation of quality didactic materials for use inSpanish language instruction.
Alcalingua's textbooks Sueña and Vuela can be found on the bookshelves of libraries around theworld, and so too will new projects such as the Encuentros series (dedicated to immigrants) and specified textbookson subjects as varied as Spanish for business, tourism, and the sciences.Alcalingua was also responsible for the preparation of course materials for thethird and fourth levels of the online classes offered by the CervantesInstitute (Spain's official Spanish language institution).