Universityof Malaga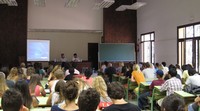 The University of Málaga isstill relatively new. The original campus, started in the 1960s, only had theFaculty of Economic Science and Business, but due to many demands of thecitizens, the University grew and was finally established with a decree in1972. Today, it offers over 60 official titles with several faculties andprofessional programs. There are approximately 40,000 students (6,000international students per year) and there are 2 main campuses along with otherbuildings in the city and in the neighbor towns of Ronda and Antequera.
Spanish Courses At University of Málaga
The school for foreigners to study Spanish in islocated in the newer part of the city center, on Avenida de Andalucía. The building is very near thecity's train and bus stations as well as the commercial shopping centers. It isa 10 minute walk from the school to the historic city center.
The University has full-length semester courses aswell as short term summer courses and intensive sections. There are differentlevels within each type of course allowing students who are at a lower level tocontinue and advance. All of the teachers are certified with a SpanishPhilology degree and have many years experienced teaching the language toforeign students.

Students have the chance to use all the facilitiesof the larger campus, located in Teatinos, 15 minutes outside of the center; swimming pool and sport grounds areavailable, and internet facilities can be found in both locations.