Autonomous Universityof Barcelona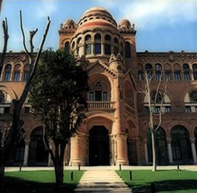 The Autonomous University of Barcelona hasexisted for over 550 years. It was opened in 1450 under the royal power ofAlfonso V of Aragon. Its history is closely tied with that of the city and the Catalonianregion. It is one of the leading universities in all of Spain andboasts having the widest range of degrees and courses of study, as well as themost students. Autonomous Barcelona University is also a leader in research throughout Spain and allof Europe. Theuniversity is home to students from all over Spain and tointernational students from all over the world.
There are four main campuses that hold the majority of faculties, but there areeven a few more schools spread throughout the city for specialty degrees suchas medicine.
Spanish Courses At the Autonomous University of Barcelona
At the Autonomous University of Barcelona theSpanish Language courses are organized by UABIdiomes. UAB Idiomes Barcelona is the modern language school of theUniversitat Autònoma de Barcelona. Apart from the Spanish language courses theyalso offer lots of other foreign languages.
The schoolis located in the centre of Barcelona near the Sagrada Familia Cathedral. Thebuilding is art nouveau (UAB-Casa Convalescència) and is part of a UNESCO World Heritage Site.
Studentscan join various courses offered by the UAB Idiomes, like the intensive course, the individual course or a combination ofboth and group courses. Other courses like the Study Abroad Program are offered by Fundació UAB.