About Valladolid
The capital of Valladolid province in the Castile-Leon region, Valladolid is a medium-sized city of around 320,000 inhabitants two hours to Madrid's northwest. The city's nucleus consists of a historic district, while its focus on industry over tourism has shaped Valladolid's present-day modern appearance.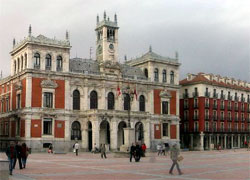 The city is characterized by an intense cultural life that has always been closely tied to its university. Along with the advantages of modernity, Valladolid offers a significant cultural legacy of monuments, museums, gastronomy and history.
The heart of Valladolid's old quarters is the 13th century main square (Plaza Mayor). Numerous historical buildings such as the Royal Palace, City Hall and the city's museum surround the square, which stands as a fine example of Spanish Baroque art and is said to be the first main square of its kind in Spain (the famous city squares in Madrid and Salamanca used Valladolid's Plaza Mayor as a model).
Culturally speaking, Valladolid truly comes alive in April during Holy Week (Semana Santa). The city's celebration of this religious holiday constitutes one of Spain's greatest religious traditions. Deeply emotional, the festivities involve large, silent processions and beautiful artwork displayed in the streets.
History
Despite evidence of habitation in Pre-Roman times, it wasn't until the Middle Ages that Valencia attained any kind of stable occupation; the city's name probably dates back to this period.
For years it was believed that Valencia occupied the site of Pincia, a city of the ancient and highly cultured Celtic tribe known as the Vaccaei (dating back to the Iron Age). Recent archeological excavations, however, have placed Pincia at nearby Padilla de Duero.
Remains from the Roman era have been found throughout Valladolid. Most notable are various Roman mosaics found in the city's historic core and an extensive Roman villa uncovered just outside the city limits near a local monastery.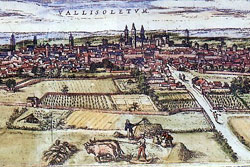 Valladolid first emerged as a city in the 11th century and experienced great expansion in the 12th and 13th centuries thanks to commercial privileges granted by the monarchy. In 1346, Pope Clement VI allowed for the construction of the University of Valladolid.
In 1469 Queen Isabella I and King Ferdinand II – also known as the Catholic King and Queen of Spain – were married in the city. Under the Catholic Monarchs, Valladolid enjoyed a period of great academic dynamism thanks to its university, transforming the city into a birthplace of modern bureaucracy.
By the 15th century Valladolid had become the capital of Spain and residence of the monarchy (the capital was changed to Madrid by Philip II in 1561). Between 1601 and 1606 the city became the center of Spain once again as it was briefly restored to capital status by Philip III.
In 1506, Christopher Columbus died in Valladolid in a home that has since been opened as a museum of the renowned explorer's life.
Valladolid played an important role during the 19th-century Napoleonic Wars as the city chosen by Napoleon to house his troops upon their arrival to Spain. The hostile reception of French troops by Valladolid's residents marked the inability of Napoleon's armies to pacify the people of Spain throughout its eventually successful liberation struggle.

Transportation
Airport: Valladolid's international airport lies 10 kilometers outside the city in the municipality of Villanubla. Several airlines operate regularly from Valladolid Airport, including Iberia, Spanair and Ryanair with direct flights to numerous cities in central and northern Europe including London, Paris and Barcelona. Transportation to and from the airport can be arranged by bus or taxi. Buses leave to and from the airport at various times throughout the day (including holidays) and the ride costs 3 euros. There is a set fee of 19 euros to travel to the airport from Valladolid (and vice versa) by taxi.
Bus: Valladolid has a good local bus system operated by the company AUVASA. Plenty of lines and frequently-scheduled stops make it quick and easy to get around within the city. Valladolid's bus station is located in the city center and offers routes to many Spanish cities (the company ALSA runs a line to Madrid and Avanza operates another to Salamanca).
Train: The RENFE train station is a five minute walk from the bus station. The station provides access to most of Spain, but one thing to consider is that the train to Madrid is no quicker – and is more expensive – than the bus (both take around 2.5 hours). The train is convenient for direct connections to cities like Santander and Gijón in northern Spain and Lisbon in Portugal.
By foot: The city's dependable bus system is good to have, but is unnecessary to get around in the city center. Traveling by foot allows one to take in the historic district's pleasant atmosphere.

Leisure
Valladolid has an excellent national sculpture museum (Museo Nacional de Escultura) containing much religious artwork, some of which is used during the city's famous Holy Week (Semana Santa) celebrations. Surrounding the museum are numerous historical buildings such as the San Pablo and Antigua churches, the latter of which is a beautiful example of Spanish Romanesque architecture.
The city center holds a special charm with all of its history and culture. The San Martin church area is especially old; strolling through its narrow character-filled streets is an unforgettably pleasant experience.
Valladolid's cathedral is not far from the University and well worth a visit. This ancient structure is famous for its missing tower; the architect Juan de Herrera was called away to build the famous monastery / royal palace of El Escorial near Madrid, leaving the cathedral unfinished to this day. For more information about other Spanish cities take a look at www.quality-courses.com.
The historic district's epicenter is the well-preserved Plaza Mayor (main square), which – as noted above – acted as a model for the famous main squares in Madrid and Salamanca. The square's laid-back atmosphere makes it a nice area to relax in. Plenty of interesting places surround it and intriguing alleys emanate from it.
The Campo Grande park located between the shopping center by the same name and the railway station is a favorite retreat for locals when the shops close and the city winds down. The park is very attractive and highly recommended. Here one can witness Spanish relaxation firsthand as children play in fountains, adults enjoy delicious tapas and grandparents gather in jovial, animated groups.

Gastronomy
Valladolid's specialty is lechazo (suckling lamb), which is often slow-roasted over a wood-burning oven and served with salad. Lechazo is so popular that many of the city's restaurants offer the dish exclusively.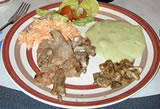 Wild mushrooms, asparagus, lentils and pine nuts form a prominent part of the city's diet, and sheep cheese produced in the area is also delicious and very popular. Fish – mostly red bream and hake – is consumed in large quantities despite Valladolid's position in mainland Spain.
Valladolid is famous for its baking, with a variety of bread to go along with virtually every dish. Some of the most famous breads include the cuadros from nearby Medina del Campo and the lechuguiños, a very aesthetically pleasing bread arranged in concentric patterns. Typical pastries include sponge cakes, pine nut balls and cream fritters.
More recently, Valladolid has developed an excellent tapas tradition (although in most bars tapas are not provided for free along with a drink as in some Spanish cities). A yearly tapas competition and the city's annual festival provide excellent opportunities to taste this emerging aspect of Valladolid's local cuisine.

Going Out
As a student town, Valladolid's nightlife is especially vibrant when semesters are in and the student population is at its max. The city offers a truly wide variety of tapas bars, restaurants, pubs and disco's to choose from.
Some of the liveliest parts of town include the Paraíso-El Portu area, Plaza de San Miguel, El Cuadro and Cantarranas. Most of the nightspots in these areas cater to a student crowd, while Vicente Meliner street is more popular for nightlifers who've left their twenties behind.
Numerous Irish pubs and chupito bars (establishments that specialize in liquor shots) can be found here. TheChupi bar on Paraíso street (which actually consists of two bars; a large and a small one, both nearby) is among the most popular chupito bars in Valladolid.
For avid dancers, San Miguel street is a favored destination. Dress is casual in most places but more formal attire (i.e. no sneakers) is required in some clubs. Disco's playing techno music can be found in the El Cuadro area.
An interesting aspect of going out in Valladolid is the possibility of getting treated to a medieval serenade by the Tuna de Derecho musical group. This group consists of students from the University's law school that provide impromptu concerts in return for small donations. Dressed in black, they wear capes and sing to the musical accompaniment of mandolins, tambourines and guitars. The tradition dates back to the 12th century when poor students had to rely on their musical skills to secure room and board.