Study Spanish Courses At University of Alcala de Henares, Madrid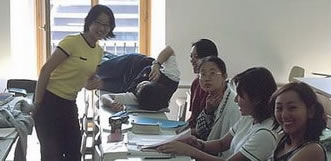 Spanish courses at the University of Alcalá are organized by Alcalingua, the university's official organization dedicated to the teaching of Spanish to foreigners. In the two decades since its inception Alcalingua has developed an excellent reputation; today it is known internationally for its creation of quality didactic materials for use in Spanish language instruction.
Alcalingua's textbooks Sueña and Vuela can be found on the bookshelves of libraries around the world, and so too will new projects such as the Encuentros series (dedicated to immigrants) and specified textbooks on subjects as varied as Spanish for business, tourism, and the sciences. Alcalingua was also responsible for the preparation of course materials for the third and fourth levels of the online classes offered by the Cervantes Institute (Spain's official Spanish language institution).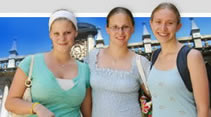 More than a thousand students from countries as varied as China, the U.S., Italy, Brasil and Australia attend the language center every year, giving rise to a rich and dynamic intercultural atmosphere. Students also benefit from course formats specifically designed to accommodate varying learning needs and optimize travel opportunities within Spain.
Intensive Course
Designed for students with limited schedules, this course provides an in-depth survey of Spanish language and culture. Over the course of four weeks, students will integrate the theoretical and communicative practice of Spanish with immersion in the country's dynamic and engaging culture.
Hours per month: 80 (language course) / 100(language & culture courses)
Levels: All
Course duration: 4 weeks
Starting Dates:
03 Jun 2013 - 28 Jun 2013
02 Jul 2013 - 30 Jul 2013
01 Aug 2013 - 30 Aug 2013
03 Sep 2013 - 30 Sep 2013

Prices are valid from 01-Jan-2013 until 31-Dec-2013
Prices
Intensive Spanish course 80h
Intensive Spanish course 100h
Official Price
Our Price
Official Price
Our Price
1
680
650
850
808

Term Courses
This course's methodology emphasizes a modern, participative approach of proven efficacy that integrates linguistic skills with the necessary foundation in structure and grammar. The course is divided into two main sections: (1) an integrated approach to grammar and writing; and (2) an integrated approach to conversation and phonetics.
The cultural classes provide an introduction to Spanish history, art, economy, and either literature or film. Each course's unique focus highlights the most relevant historical, geographical, and artistic aspects of Spanish life while acquainting students with the functioning of the country's primary institutions. Classes are developed in conference and seminar style, allowing for ample student participation and peer-to-peer interaction. Cultural and social activities are organized throughout the course to take students' learning beyond the classroom.
Hours per Term: 150 (language course) / 200 (language & culture courses)
Levels: All
Course duration: Approximately 10 weeks
Starting Dates:
01 Oct 2013 - 19 Dec 2013
07 Jan 2014 - 14 Mar 2014

Prices are valid from 01-Oct-2013 until 31-Mar-2014
Prices
Term Spanish course 200h
Term Spanish course 150h
Official Price
Our Price
Official Price
Our Price
1
1650
1568
1240
1178

Annual Course
This course is primarily designed with those in mind who will be having their first contact with Spanish or for students with a more advanced level of experience who must undergo a yearlong academic or professional experience in Spain.
Hours per course: 450 (language course) / 600 (language & culture courses)
Levels: All
Course duration: Approximately 7 months
Starting Dates:
07 Oct 2013 - 30 May 2014

Prices are valid from 01-Oct-2013 until 30-May-2014
Prices
Annual Course 450h
Annual Course 600h
Official Price
Our Price
Official Price
Our Price
1
3450
3278
4600
4370

Accommodation
Host Family, half board 23€ per day
Host Family, Full board 26€ per day
Residence, single room 439€ per month