Study Spanish Courses At Autonomous University of Barcelona (UAB)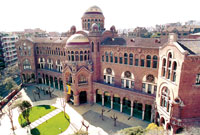 At the Autonomous University of Barcelona (UAB) theSpanish Language courses are organized by UABIdiomes. UAB Idiomes Barcelona is the modern language school of theUniversitat Autònoma de Barcelona. Apart from the Spanish language courses theyalso offer lots of other foreign languages.
The schoolis located in the centre of Barcelona near the Sagrada Familia Cathedral. Thebuilding is art nouveau (UAB-Casa Convalescència) and is part of a UNESCO World Heritage Site.
Studentscan join various courses offered by the UAB Idiomes, like the intensive course, the individual course or a combination ofboth and group courses. Other courses like the Study Abroad Program are offered by Fundació UAB.
Intensive Spanish Language Course
A monthly course offered throughout the year for students who wish to learn Spanish to access courses at the university or just for fun. This program normally has the widest variety of students regarding age and background. To get the certificate, students must take a Spanish language coursefor at least one month and then pass the exam of Sufficiency set by theAutonomous University of Barcelona. This certificate will state yourscore on the exam and will define the Spanish level reached.
Hoursper week: 20
Levels:All
Courseduration: from 2 to 42 weeks