About Leon
León, capital of the northern province of the same name, is of ideal size for a student with an urban population of around 200,000. This medieval city represents an excellent setting for a complete linguistic-cultural immersion experience. While the city is an important center of cultural tourism, its permanent foreign population is minimal, giving the foreign student plenty of opportunities to practice Spanish in daily life.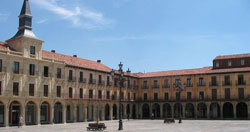 Characterized for its strength in the service sector, León is graced with an attractive image in the field of leisure and a constant high-level offering of cultural activities. It is the province's administrative and commercial center and a welcoming, friendly city that offers a charming balance between its ancient medieval center and a modern city with great artistic appeal.
The city can be easily traveled by foot, allowing visitors to become intimate with its friendly streets, squares, parks and people. A calm and secure atmosphere and a cordial, hospitable population make León an attractive destination for foreign students intent on learning Spanish in its cultural context. Its proximity to Madrid (4 hours), Salamanca (2 hours) and the lush and beautiful Bay of Biscay (2 hours) also adds to the city's desirability as a Spanish course destination.
History
León began its history as a city in 68 BC during the occupation of Roman legions in the area. Gradually, the legionary station grew into a major city that resisted Visigoth occupation longer than most, until 586 AD.
During Visigoth rule León was one of the few Spanish cities that was allowed to retain its fortress. It was this same Roman-era fortification that would later become the last bastion of Spanish independence during the Muslim invasion.
In 856 Christian King Ordoño I successfully attempted a repopulation of León (a similar attempt by a group of Christians had been curtailed by Muslim attack a decade earlier). His son, Ordoño II, established the court of León in the 10th century, making León the capital of his kingdom and positioning it as Christian Spain's most important city.
Almanzor (in Arabic, "the Victorios"), the political and military leader of the Córdoba Caliphate in Muslim Andalusia, besieged and destroyed León in 987. The city, however, was quickly rebuilt and restored to greatness by Alfonso V the Noble. Beginning in the 11th century, León became an important stop on the famous Pilgrim's Way to Santiago (El Camino de Santiago). Under Alfonso IX León gained prominence as one of Europe's first cities to have a parliament with the creation of its democratic courts.
More recently, León has seen the emergence of a nonviolent political movement for Leonese autonomy that sprang up after the city was incorporated to the neighboring region of Castile in 1983 (forming the Autonomous Community of Castille and León). Today, the city acts as the center of a peaceful organization for an autonomous Leonese community composed of the provinces of León, Salamanca and Zamora.

Transportation
Airport: León's airport is only 6 kilometers outside the city in the Virgen del Camino airbase. The airport is regional and operates a limited number of airlines and destinations. Iberia (operated by Air Nostrum) and LagunAir offer flights to and from Spanish cities like Madrid, Barcelona, Málaga, Alicante and a few others. However, a sizeable expansion is currently underway and international destinations as well as added airlines (including Ryanair and Air Europa) will soon expand the airport's capabilities. An alternative to the León airport involves flying with low-cost airline Ryanair to Valladolid's international airport and taking the 1.5-hour bus ride to León ALSA offers daily services).
Bus: The city bus system in León is managed by ALSA's urban transport division Alsa City. The service currently offers 13 lines (soon to be expanded to 15) and is operated by over 50 buses that are on average less than 3 years old. The standard bus fee is 0.90 euros. León's bus station provides convenient connections to points within the province and Castille-Leon, as well as offering national and international destinations.
Train: León enjoys two train stations: the León station in the city's western El Crucero neighborhood, operated by Adif; and the Matallana station in the city center, operated by Feve. León maintains railway connections to cities like Madrid, Barcelona, Alicante and Bilbao.
By foot: The city's accessible size and great historic and artistic heritage makes it ideal for walking.

Leisure
Both the city and province of León offer excellent opportunities to enjoy the area's rich cultural-artistic heritage, beautiful landscapes and profound history. A wide and varied offering of cultural events in the city's concert halls, museums and art centers guarantees there's always something to do in León.
The city is also famous its fiestas (festivals), some of which are recognized internationally. The Semana Santa (Easter or Holy Week) celebrations, with their vast and beautiful processions, have been declared of international tourist interest. Every year, visitors from far and near experience and participate in León's colorful Holy Week traditions.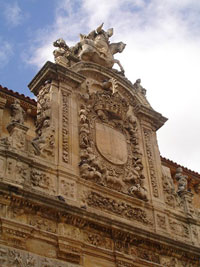 León is rich in history and monuments, the best example being its great Gothic cathedral known as Santa María de León or the House of Light. Other monumental buildings include the Casa de Botines, a modernist building designed by architect Antonio Gaudí; and the Basílica de San Isidoro, a Christian temple housing the Royal Pantheon (where León's medieval royal family rests) and one of the world's best collections of Romanesque paintings.
León's Roman origins can be explored through its ancient walls, ruins and open-air gold mines (Las Médulas). The nearly intact Roman walls surround the Barrio Húmedo,the city's historic district, where an intricate network of welcoming streets spread out from the area's main square (Plaza de San Martín) towards the newer parts of the city.
Modern León offers wide avenues, green parks and stimulating architecture. The new museum of contemporary art MUSAC, with its impressive stained-glass panel design; and the nearby León auditorium, with a striking facade of white cubes and irregularly shaped windows are the hallmarks of a modern, culturally alive León. León is very popular as a destination to learn Spanish due to the many leisure activities offered and the clear Spanish spoken in this part of Spain. It is one of the cities with the most Spanish school in Spain per inhabitants and is in many ways similar to Salamanca which is located nearby.

Gastronomy
Some of León's most traditional dishes include cecina (dried, salted beef), morcilla (surprisingly delicious blood sausage) and chorizo (smoked sausage cured with chili, paprika and garlic). León's cecina is known internationally as Cecina de León and has PGI status (Protected Geographical Indication) thanks to its high quality and desirability.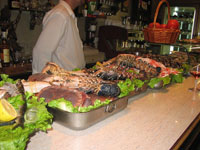 The cocido leonés, a vegetable and meat stew served alongside vegetable soup,is also very typical in the region. On the sweet side, León is known for its mantecadas,which originate in the nearby town of Astorga and are made with flour, egg, sugar and cinnamon.
Tapas (small samplings of varied foods) are undoubtedly the star of Leonese cuisine. These delicious food portions are served throughout the city free of charge with a drink order, most typically wine or mosto (freshly pressed grape juice). The best tapas in the city are served in the Barrio Húmedo (historic district), where thousands gather every day in hundreds of bars to practice this highly enjoyable and social Spanish tradition.

Going Out
The city's famous historic district, the Barrio Húmedo, is renowned for its nightlife. The name itself (literally, "wet district") alludes to the many bars and clubs in the area and the vast amounts of alcohol consumed every night within its ancient Roman walls.
The Barrio Húmedo is famous for having one of the highest concentrations of bars, pubs and taverns by square meter in Spain. Well over 100 locales provide an endless variety of tapas, drinks and environments to suit all preferences.
Because of the density and variety on offer in this part of the city, a common tradition is to go pub-crawling, enjoying drinks and the free tapas served alongside them at numerous bars. The Barrio Húmedo is perfect for this type of activity because it's possible to visit numerous bars (each with their own specialty) without having to travel long distances.
Tapas are served between 9:00pm and 12:00am, at which time the partying begins in the district's traditional taverns, Irish pubs, heavy metal bars and modern dance clubs. One bar in the area is particularly famous for having been the location where Spanish Prime Minister José Luis Rodríguez Zapatero (a León native) was spotted partying with then German Chancellor Gerhard Schroder in 2004.